Shopping cart
There are no products in your shopping cart.
Contemporary Wildlife Art (Hardcover)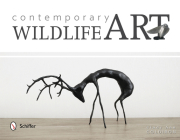 $39.99
Usually Ships in 1-5 Days
Description
---
Over 360 spectacular art pieces are accompanied by personal statements from 74 artists in this curated selection of contemporary works. The artists, who come from across the United States, and from places such as New Zealand, Australia, and the United Kingdom, all convey their respect, enthusiasm, and personal connections to wildlife. A wide range of styles and media is covered including photography, glass, relief woodcarving, mosaics, pastels, oil, watercolor and acrylic painting, bronzes, stoneware, terracotta and porcelains, ink, graphite and colored pencil, digital illustration, felted sculpture and fabric collage, and more. Examples of wildlife presented are bears, birds, elephants, monkeys, pandas, tigers, foxes, wolves, owls, seals, and even insects. This book is a great gift for wildlife and nature enthusiasts, interior designers, museums, art collectors, art educators, and artists.
About the Author
---
Cindy Ann Coldiron is a recycled-glass artist and photographer who resides in Virginia. She hopes that her interest in nature helps draw attention to the value of wildlife in our world.